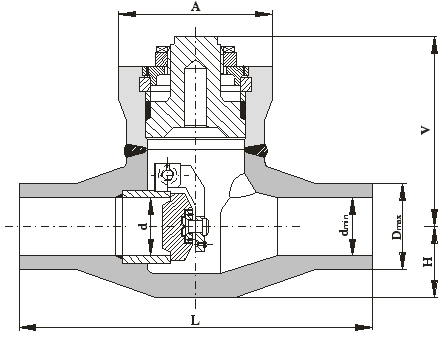 Testing
Swing check valve is tested as per DIN 3230-3, (ÈSN 133060, part 2).

Installation
Valve can be installed either into horizontal or vertical position. In
vertical pipeline disc must be in upper position and flow direction must
be upwards. Medium flow must be as per the arrow on the body.

Control
Self-acting by the pressure of working medium on the valve disc which
in the closed position avoids reverse flow of medium.
Application
Self-acting valve preventing from reflux of
transported medium. It is used for water,
steam, gases and other non-aggressive liquids
for working pressures and temperatures: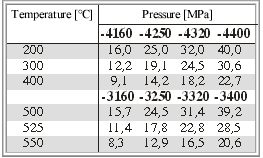 Swing check valve is not a shut-off valve. If
tightness is required, shut-off valve must be
also inserted into the pipeline.
Technical description
Body is a forging or die forging. The body seat
is hot-pressed and secured by sealing welding,
body and seat sealing surfaces are made of
hard alloy welded overlay. Disc fits on the
seat sealing surface and is carried in an arm
revolving on a special hinge pin.
Connection
Face-to-face dimensions as per ÈSN 133052.
Butt-Weld ends are as per ÈSN 131075
(DIN 2559). A flanged design of this valve is
available, too.
Materials
Body, bonnet, disc
up to 400°C steel DIN 1.0425
up to 550°C steel DIN 1.7715
Pin stainless steel (13Cr)
Sealing surfaces welded overlay (Stellite 6)
Stuffing box packing expanded graphite