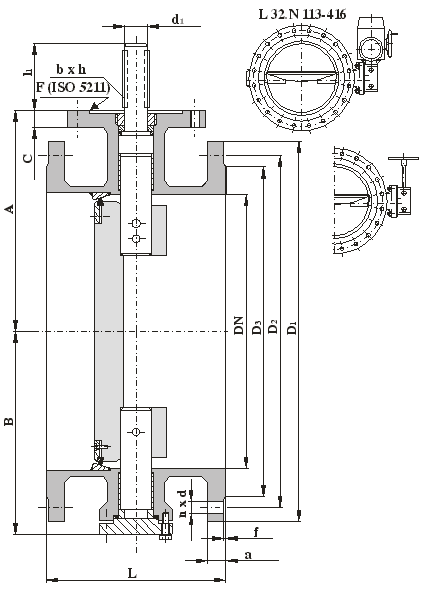 Installation
Butterfly valve can be installed either into horizontal, vertical or inclined
pipeline. Medium flow must be as per the arrow on the body and the shaft axis must be in horizontal position. When actuator or gearbox is to be connected it is very important to adjust the open-close limits of the disc.
Application
Shut-off valve used mainly for water, steam,
air, natural gas, coke-oven gas, oil products,
diesel, petrol, oil etc. for working pressures
and temperatures:

Maximal temperature of working medium
depends on the material of the sealing and can
be
from -20°C up to +80°C......NBR
from -20°C up to +120°C....VITON
Technical description
Revolving disc is fixed with eccentricity in
the body and is fixed to the shaft and pin. Pin
and shaft are placed in self-lubricating sliding
bearings. Pin is sealed by the flat asbestos-free
gasket and shaft by "O"-ring. Seat is made of
stainless steel. Shaped rubber ring is pushed in
the seat during closing. Rubber ring is secured
to the disc by the thrust ring which allows the
adjusting of prestress against the seat.
Connection
Flanged connection is as per DIN 2501, resp.
ČSN 131060. Face-to-face dimensions as per
ČSN EN 558-1, line 14. Basic connecting
dimensions are given in the table.
Materials
Body, disc wrought carbon steel
Seat austenitic stainless steel
Shaft, pin stainless steel
Sealing ring NBR or VITON
Shaft sealing NBR or VITON
Pin sealing asbestos-free
Testing
Swing check valve is tested as per DIN 3230.