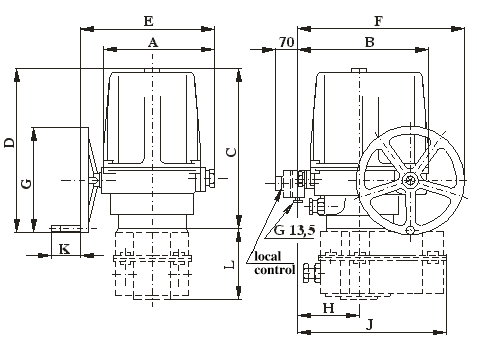 Self-locking
Self-locking of the actuators is provided by a mechanical or electromagnetic brake of the electric motor. The actuators are self-locking.
Heateing element
To prevent water steam condensation, the actuators are fitted with an anti-condensation heating element. It can be connected to the AC or DC voltage of 230 V.
Working travel
The rated working travel of the actuator is 90°.
Connecting
The MOK actuators connect to the valves as per DIN 3337 or ISO 5211 (see the manufacturer catalogue).
Operation
Actuators comprise of a power part and control section. Power part consist of epicyclic gear unit, worm gear for hand actuation and motor. The control section consists of position and signal switches with the position transmitter and a torque switch units.

Application
The MODACT MOK actuators are intended
for positioning of control elements by reverse
rotary motion up to 90° rotary action and tight
closure in end positions. Typical example of
application is control of ball valves, check
valves and similar devices in the remote and
automatic control mode. The actuators are
attached directly to the control device.

Supply voltages
For 52325, 52326, 52327 ... 1x 230 V, 50Hz
52328, 52329.................. 3 x 400 V,50 Hz
After agreement with the supplier it is
possible to supply also servomotors for
different supply voltages and frequency.

Operation position
Actuators can operate in any position.

Protective enclosure
Protective enclosure of the actuator is IP 65 as
per ČSN 33 0330.

Duty
The actuators can operate at the rated load
torque corresponding to 50% of the maximum
switch-off torque , in duty S 2 for 10 minutes
or S 4 with load factor of 25% and at
switching rate of 1,200 switching cycles per
hour.

Note
5232Y.XXXX
Y - according to torque and size of the
actuator (5 - 9)
X - according to requested equipment