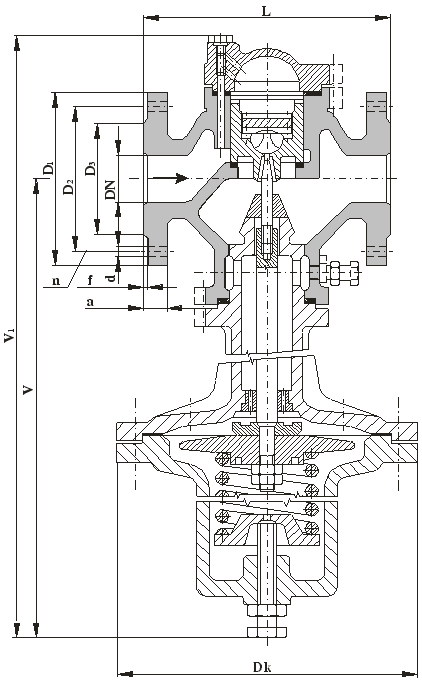 Application
It is used as output pressure controller, which decreases input steam pressure and automatically regulates it to adjusted output
pressure. Maximum output overpressure depends on temperature (refer from the table).


Connecting and face-to-face dimensions
Connecting and face-to-face-dimensions as per DIN 3202 - F1. Flange connecting dimensions and sealing surface finishing with rugged sealing face as per DIN 2533 and DIN 2501.
Material
Casting grey cast iron GG 25 Functional parts stainless steel Diaphragm mechanical rubber Sealing asbestos - free
Installation
Controller adapter must be in vertical position and rubber diaphragm must be at the bottom, when installing to horizontal pipe-line.
Medium must input the valve in the direction of the arrow on the body. Pipeline to which the controller is installed must not transmit any additional stress to the controller. Valve leakage (when closed) is 0,1% Kv max.. Minimum flow rate is 5% Kv. The lower part
of the controller must be primed with water (for membrane protection) before putting into service.