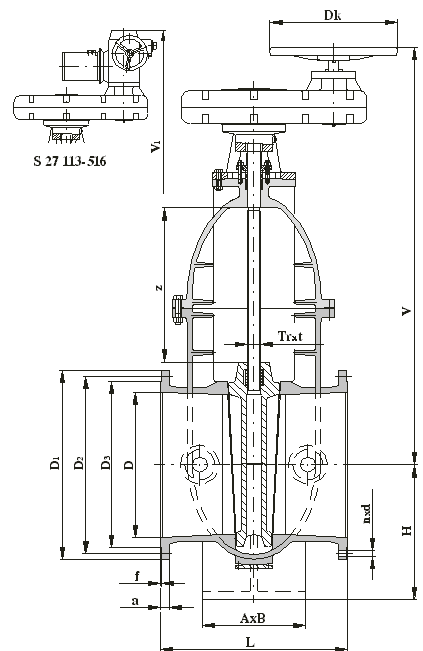 Application
Shut-off valve for water, steam, gases, non-
aggressive liquids, crude oil and its products
for service pressures and temperatures:


Technical description
Flanged oval cast steel gate valve with solid
wedge. Stem has thread inside the body. There
is a yoke with ball bearings on the bonnet. The
bearings catch axial forces on the stem. Gate
valves are operated by handwheel, by 1:3 spur
gear drive with an indicator of open position.

Connecting and face-to-face dimensions
Flange connection dimensions as per
»SN 13 1060 and »SN 13 1061.
Basic face-to-face and connecting dimensions
are shown in the table.

Material
Body, bonnet, wedge carbon steel (42 2643.1)
Stem stainless steel (13 Cr)
Stem nut alloys of heavy
non-ferrous metals
Sealing surfaces weld deposit 13 Cr
Gland packing asbestos-free

Testing
The gate valve is tested per »SN 13 3060,
part 2.

Installation
The gate valve can be installed in horizontal
or vertical piping. For electrically actuated
valves, the axis of electric motor must remain
horizontal. If the servomotor is installed with
vertical axis upwards, amount of oil fill must
be increased.

Operation
The gate valve can be operated by handwheel,
chainwheel, electric servomotor or from a
stand.