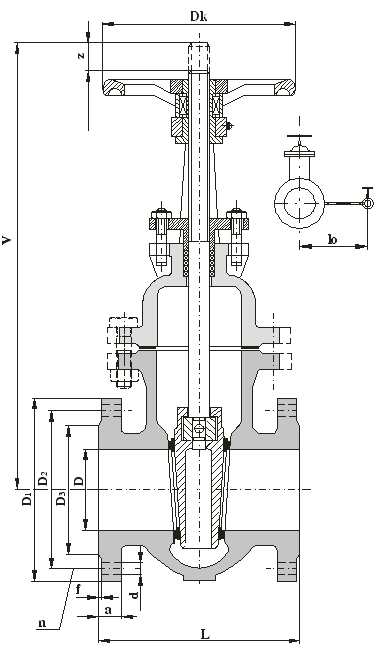 Application
Shut-off valve for non-aggressive media with
temperature up to 400°C, for pressures and
temperatures:

Technical description
The yoke gate valve has flooded packing and
rising non-rotating stem with its thread
outside the valve chamber. The stem nut is
turned to raise or lower the stem and solid
wedge. Body and wedge have stainless steel
sealing surfaces. Flooding is achieved by
a valve with a screw coupling and a DN 10
threaded coupling. Stem is sealed with gland
packing in yoke. Gate valve DN 200 and 250
and for working overpressure higher than
1,00 MPa can be provided with a bypass.

Connecting and face-to-face dimensions
Flange connection dimensions as per
DIN 2501 and DIN 2526. Face-to-face
dimension as per ČSN EN 558.

Material
Body, bonnet, wedge 42 2942.4
Stem stainless steel (13 Cr)
Sealing surfaces 13Cr
Gland packing asbestos-free graphite

Testing
The gate valve is tested per ČSN 13 3060,
part 2.

Installation
The gate valve can be installed in horizontal
or vertical piping.

Operation
The gate valve can be operated by handwheel.